Mura Training June 2017 in Sacramento
April 5, 2017 by Michael Evangelista
The next round of Mura training courses in the US will be presented Monday, June 26 through Friday, June 30, 2017, in Sacramento, California.
Mura CMS has come a long way, and so has Mura Training. This year's program has been redesigned from the ground up, including updated Content Manager, Theme Developer and Mura Developer guides and modernized subject material covering the options and features in version 7, from managing pages and layout with the new inline editor to programming with Mura's newly-enhanced API.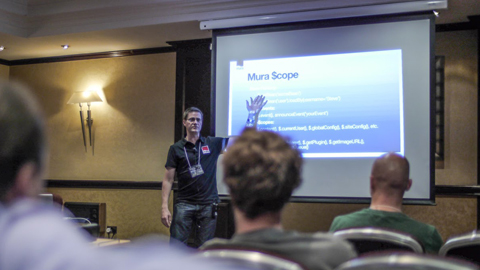 Registration is available now through the date of the training - but seats are limited and the hotel conference rate discount expires June 6th!
The power-packed series of three distinct session topics presented over a five-day period will provide attendees with everything they need to get the most out of Mura CMS. Take one course or attend all three - the content is tailored to the unique needs of users, designers and developers, and covers the new features and capabilities of Mura 7.
Ten Reasons to Attend Mura Training
Master Mura CMS
Blue River's in-depth training courses provide the most comprehensive, hands-on Mura instruction available anywhere. Whatever your experience level, your confidence will be boosted and your skills strengthened as you fortify your Mura expertise.
Become a Power Publisher
The one-day Content Manager's Training Course is perfect for website managers, content administrators and developers. Walk step-by-step through the process of creating a website, building out navigation and site structure, managing pages, forms and components, and much more.
Design Without Difficulty
The Theme Developer's Training Course, held on the second day of the week long training session, is aimed at designers and theme developers. Learn how to convert an existing visual design into a theme, modify template files and css styles, and build out a working website using Mura's built-in features.
Program Like a Pro
This content-rich three-day Mura Developer's Training Course is intended to expand your horizons and complete any gaps in your understanding of Mura's inner workings. You'll explore the fundamental principles at work in Mura CMS, and learn to programmatically manipulate, extend, and customize Mura's logic and functionality. Attendance of User and Theme courses, or general knowledge of the subjects covered in those courses, is highly recommended.
Dedicated Developers
Get to know the Mura development team in person! Whether you attend one course or the entire week, the small group size and personalized coaching afford ample opportunities to talk with the trainer and other members of Mura's development team. You'll learn directly from the people who create and maintain Mura.
Customized Course Content
Get answers to real world questions. More than just a classroom experience, Mura CMS training from Blue River is all about helping you reach your goals as a user, designer or developer. Questions about your own project or programming tasks with Mura are encouraged, and course content is often modified to suit the needs of those in attendance.
Propel Your Productivity
All three hosted training topics are designed to get you up to speed with time-tested teaching methods and examples, and the rewards are immediate. From detailed guides and documentation to a completely self-contained express version of Mura 7 to get you instantly up and running, all aspects of Mura usage and development will be handled and presented in a clear and easy-to-understand format. You will be return to your desk feeling more efficient, focused and productive right away.
Limitless Learning
The structured guidance and instruction of these training classes within the context of the very latest version of Mura will enhance the value of every other resource you encounter. Code samples, forum discussions, webinars and blog posts are all more easily digested, the more fluent you become in Mura's workflow and terminology.
Train the Team
All of Blue River's hosted Mura training courses are tailor-made for group attendance! From group discounts to cohesive content, the training staff will help you maximize the benefit to your company. Productivity and quality are amplified when developers and designers learn together!
Make the Most of Mura!
Are you unsure whether Mura will work for your design or business logic, or doubtful of your ability to customize things on your own? Filling in those blanks is exactly what these training sessions are about! Not only will you come away understanding how to utilize Mura's features and functionality to suit your requirements, but you'll be much more comfortable and confident finding help when you need it going forward. Unmuddle the landscape and clarify the path to success with an inclusive overview of everything Mura 7 has to offer in the newly-updated curriculum.
More about Mura CMS Training
Overview, prerequisites and outline for each course:
http://www.getmura.com/training/hosted-training/training-courses
Registration, pricing and group discounts:
http://www.getmura.com/training/sign-up
Location and hotels:
http://www.getmura.com/training/hosted-training/training-courses/location-and-hotels