Help Get Mura CMS Packaged by Bitnami
Mura CMS is a candidate in Bitnami's February contest!
What is Bitnami, and why should you care?
Bitnami radically simplifies the installation and deployment of open source web applications to make them more accessible. The Mura CMS Bitnami package will include a self-contained Mura CMS install with all required underlying services and dependencies (Apache Tomcat, MySQL and the Lucee open source CFML server), in a range of self-contained download formats, with all components maintained to include current versions and update releases. With Mura CMS on Bitnami, installation and deployment of Mura CMS will be easier than ever.
Bitnami hand picks promising projects for their library of self-contained open source web applications, and runs monthly online contests to let the community choose which apps get packaged. At the end of each month, the app with the most votes wins, and is added to the Bitnami Application Library. This means Bitnami will create and maintain easy to use installers, virtual machines and cloud images for Mura CMS including all security fixes and version updates, available free of charge for easy and instant deployment. ( In a recent monthly contest, the Railo CFML Server was selected after the CFML community drove the vote count skyward. The Railo Bitnami Stack is now featured among the newest additions to the Bitnami Library. )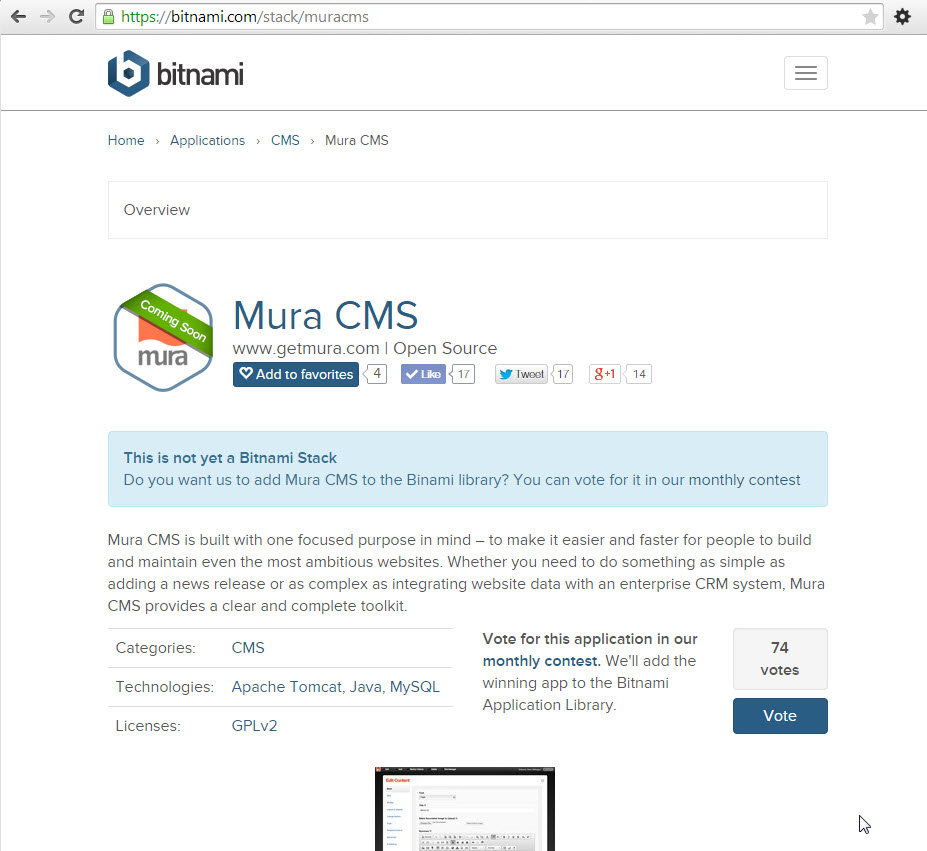 Mura CMS is one of 250 apps in this month's contest, and as of this article's publication, it is in the top 20% of candidates. With your help, casting votes and earning extra points through tweets, likes and shares, we can win this and get Mura CMS added to the Bitnami library. This contest runs through the end of February, plenty of time to spread the word and get that vote count up.
Help Mura Win!
Votes may only be cast once per month, but there are easy ways to increase your impact. Each like, tweet or share using the links on the Bitnami site will count as an additional vote! Also if you have a blog or CFML-related website please consider adding the Bitnami badge for Mura CMS in a prominent location through the end of this month. (To make this easy we've copied the code snippet below.)
Whether you have helped improve the Mura code or simply used Mura for your own projects, now is your chance to contribute to Mura's overall success with just a minute or two of your time. Bitnami does require a login but the information is treated respectfully and no spam is sent. Please vote now for Mura CMS on the Bitnami platform, add the badge to your site for the month of February, and help spread the word!
Remember, each tweet, like or share from the links on the Bitnami site counts as a vote. Mura has some solid competition in this month's contest but with the community's help we can come out on top.
Read more about Bitnami and the "Bitnami Stack" here: https://wiki.bitnami.com/About_BitNami .

Mura CMS promotional Bitnami badge:

<iframe allowTransparency="true" frameborder="0" scrolling="no" src="https://bitnami.com/product/muracms/widget" style="border:none;width:230px; height:100px;"></iframe>