Mura CMS 5.6
We're proud to announce that Mura CMS 5.6 is now released, and available for download and updates. Mura CMS 5.6 has several new features, all centered around improving Mura CMS' document management capabilities and overall usability.
Site Manager - Flat View
The biggest change in 5.6 is the adddition of a secondary view in the Site Manager called "Flat View" which allows advanced searching and filtering of your site's content.
In this view, you can get an in-depth look at almost every aspect of your site's content. You can of course search by keyword, but you can then add all sorts of advanced filtering:
Filter by type (page, file, portal, calendar, gallery, etc.)
Filter by tag
Filter by category
There are a number of pre-set searches that you can run with a single click:
All Expiring Content (read on to learn more about Expiring Content)
My Expiring Content
My Drafts
Files I'm Editing Offline (again, read on to learn more about this new feature)
And you can even sort your search results:
Last Updated
Date Created
Title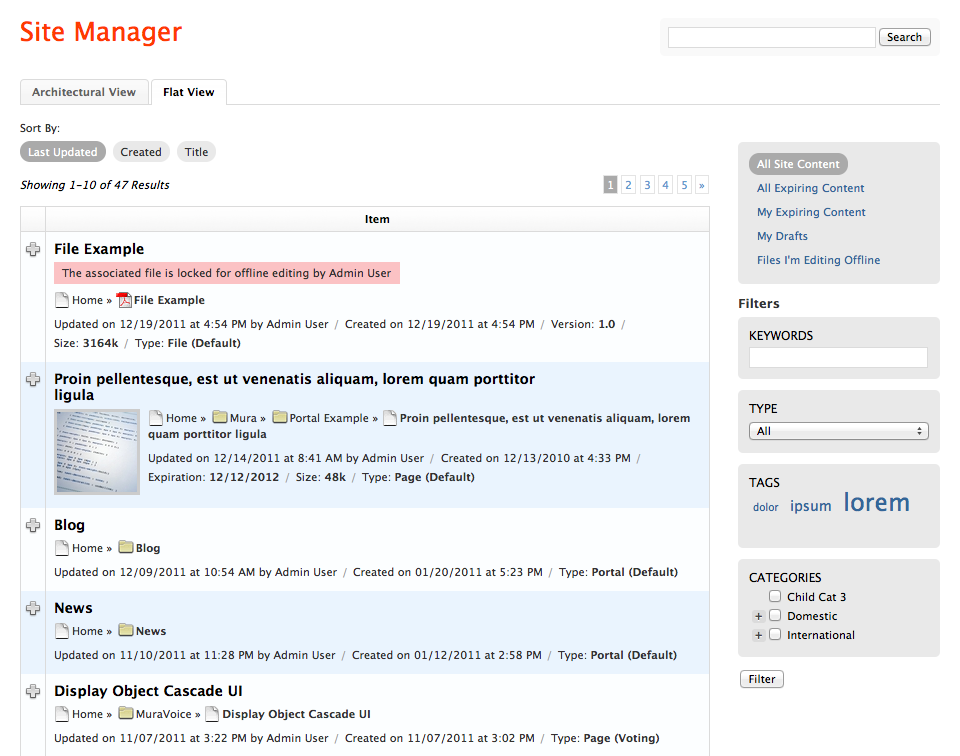 New Document Management Features
In order to make Mura CMS a better fit for organizations that have specific Document Management needs, we've added some key new features:
Expiration Dates: You can now add an Expiration Date to any piece of content (of course, this is especially relevant to Files when working in a Document Management capacity). This Expiration Date lets you know when a content needs to be reviewed or updated, and the Expiration reminder can be assigned to any member of your CMS admin team.
Lock a file for Offline Editing: You can now "check out" a file for editing offline. This prevents two users from making simultaneous edits to the same file (which would result in on of the user's edits not showing up in the file).
Auto-Incrementing of File Version Numbers: When updating a file (not the description or meta data, but the actual binary file), you can choose whether your update is a major or minor update, and Mura CMS will increment the version number. Major updates will add a new full integer to the file number (from v4 to v5 for example), and minor updates will add a .1 increment (from v4.3 to v4.4).
All these additions make Mura CMS a more powerful system for document management, while adding some great new usability improvements. We're really excited about these updates, and look forward to hearing how they end up helping people manage their sites more efficiently.
Minor Update to Mobile Navigation
Any content node (pages, files, etc.) can now be shown exclusively in your Mobile Navigation structures. (Previously you could exclude anything from Mobile Nav, but you couldn't create a node that was only shown in Mobile nav - now you can).
Some interesting notes about this release
This release of Mura CMS is the fastest full version we've developed to date. Version 5.5 was just released in early November, 2011, and we normally take anywhere from 4-6 months between releases. But this release has some interesting circumstances: we were contacted by one of our federal government clients who had a fairly urgent request to add many of the new document management-focused features. Now, we get requests for new features all the time, but this had a very interesting twist: because of budgeting issues, this work had to be completed in the 2011calendar year! We're used to prioritizing paid requests, but this was a lot of work to be finished in a short cycle. It's a real tribute to just how efficent and productive CFML is (and at the risk of being immodest, how good our development team is) that we were able to wrap it up so quickly.
We're looking forward to the next development cycle being a bit more relaxed, but you can expect lots of great new features and ongoing improvements in Mura 5.7!
How to get it
Auto-updater: Mura CMS 5.6 is now available via your auto-updater; Log in to your Mura CMS instance, go to site settings, select Global Settings, and on that page, click the "Update Core Files to Latest Version" - it's that simple.
Download: You can download Mura CMS for free from our Downloads page - you can choose the full installer, or just the Mura CMS files alone. Enjoy!