MuraCon 2018 is almost here!
March 29, 2018
If you haven't registered yet, there's still a little time… but not much.
We're only a few days away from the start of this year's MuraCon conference, bringing together development, user experience and marketing professionals, as well as the entire blueriver team, for an action-packed two-day summit.
For those of you who will be attending, we are looking forward to seeing you in Sacramento next week, April 5 & 6, for the best MuraCon yet! In addition to exceptional keynote presentations and half-day workshops included with every registration, MuraCon 2018 has a full menu of high-caliber sessions on tap.
Two full tracks over two full days
Developer Track
Expert Insights: Mura 7.1's Flexible Theme Architecture with Steve Withington
Deep Dive into Mura.js & JSON API with Matt Levine
Content as a Service: Going Headless with Mura 7.1 with Luke Wilson
Journey to Docker Production with Bret Fisher & Eddie Ballisty
A Modern Development Pipeline with Mura and AWS with Nick Sollecito
Interfacing with Humans: Communication Hacks to Boost Your Dev Career with Jeff Hadfield
Digital Experience Track
On the dedicated two-day Digital Experiences track, we're looking forward to these topics presented by blueriver team members and industry-leading marketing and DX experts:
Surviving a Marketing Technology Implemention: How to Avoid Common Pitfalls with Peg Miller
Accelerating the Customer Journey with Content Personalization with Sean Schroeder
The DPM's Guide to Creating Project Flow for Digital Teams with Christine Ballisty
Design Sprints: From Idea to Prototype in a Week with Matt Stuart
Marketing Automation with Mautic with David Hurley
Why Lead Source is Fake News with Ronnie Duke
See www.muracon.com for full schedule and registration details.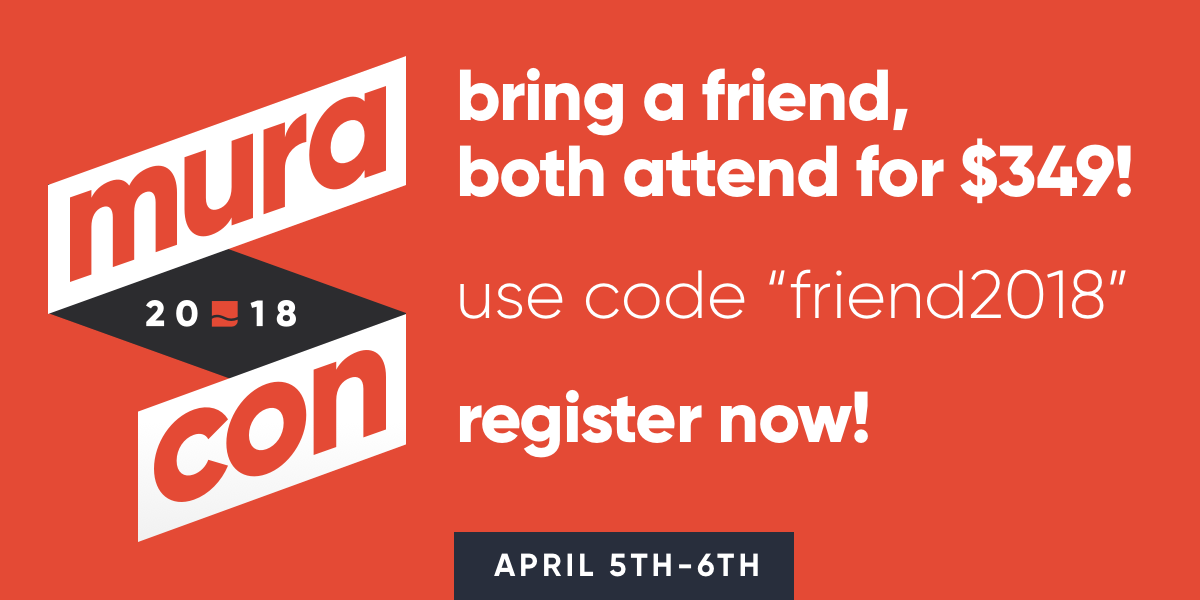 Pre-conference training sold out!
This year's pre-conference Mura Content Manager's training has reached full capacity, and is no longer available for registration. Please contact Jason Long, or talk to Steve Withington or any member of the blueriver team at MuraCon, to find out about future Mura training opportunities for the developers and content managers in your organization.
Watch last year's conference sessions online now
As we're planning to do again this year, we have posted a number of MuraCon sessions on our Mura Platform YouTube channel. The full MuraCon 2017 playlist is available now. Watch for MuraCon 2018 videos coming soon!
Thanks to our sponsors
MuraCon invites you to take advantage of our sponsorship opportunities. Allow us to help you increase exposure and heighten awareness of your organization with our audience of highly experienced developers, managers, engineers, and executives. Contact Jason Long at (916) 608-8608 for sponsorship details.