The New Mura Translations Plugin
One of the more complex tasks in website management is managing multi-lingual sites. Not only do you have to translate content between the various languages, you have to make it easy for visitors to the website to find content in the language they are most comfortable with. Content creators, too, need to be able to manage the various translations and be able to manage the relationships between the various locales. All of this effort is mute, however, if you don't have the ability to easily translate the content as well.
Mura Translations (formerly the Locale Translation Manager) is a free, open source plugin designed to deal with all of these issues and do it in a way that makes multi-lingual sites easy to maintain, unobtrusive and manageable over the long term. Let's take a look at how this is accomplished.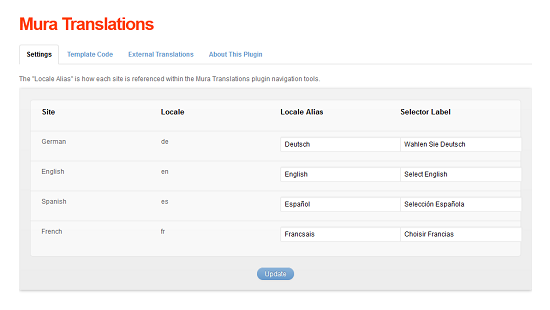 The Foundation
The foundation of any multi-lingual site in a Mura CMS site is Mura's multi-site capability. Each language, or Locale, is created in its very own site. The great advantage of this is that each language can be a site into its own, with its own theme, navigation, digital assets and layout. This isn't a requirement, but does allow for a great amount of flexibility. And, as each site has its own base Locale assigned, complex languages and features like text that flows from right to left can be easily accounted for.
Most importantly, it allows content managers to create sites that aren't necessarily duplicates of one another. It is possible to create selective relationships, where say only the news section is mapped one-to-one across sites, but other sections are more independent. It is even possible to create completely different hierarchies in the site layouts but maintain the translation relationships.
Relationships Aren't So Tough
Speaking of relationships, one of the keys in managing multi-lingual sites is maintaining a tie between a piece of content's multiple translations. Mura Translations does this by linking the pages within the Site Manager in a unique tab that clearly displays the relationships. This tab lets content managers switch between the translations with a click, as well as create new translations and relationships. If the page doesn't exist in a particular language, it can be created with a click (copying the source content into the requested locale). If the page exists but isn't linked to the source (or other translations), these relationships can also be established with a click.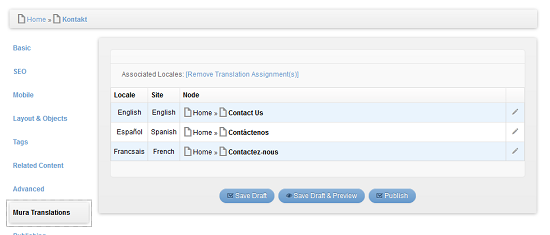 Getting from Español to Deutsch to English
The Mura Translations plugin includes several display objects to help with Locale navigation on your website. You can display a list of all of the languages you have set up for your site, or you can use a dropdown selection to navigate between your translated pages. You can also embed these navigation tools right into your design templates, and they can be easily styled to fit into your site theme.
You might be wondering, "now what happens if a piece of content doesn't exist in all the sites?" Good question! Mura Translations accounts for this by automatically guiding the visitor up the parent sections the content would have belong in, until it finds a page to land upon. For instance, if a visitor uses the Locale navigation to view a news article that hasn't been translated yet, they would arrive instead on the overall news landing page. This gives you the flexibility to create and manage your translations in a more flexible fashion where you don't have to publish into all of the available Locales to make the content available.
Translations Made Easy via Export/Import
Translating a large site can be time consuming, and we wanted to make it as easy and efficient as possible for you. Mura Translations has a feature called "External Translations", which allows you to export the contents of an entire site, or select a date so that only changes from that date forward are included in the export. The exports will include all of the page content that can be translated, including Class Extensions and meta data. You can then translate the content off-line, such as by sending them to a 3rd-party company for translation (you can even adapt the export template so that it matches the format the 3rd-party company might need).
Once you have translated the content, you can import the files into the target language's site. Mura Translations will take care of the rest, creating the relationships between the original (source) site and new (destination) site and copying over any associated display objects such as feeds, forms and related content associations. You'll be happy to know you can also do your imports in an ad hoc fashion by importing content in batches as it is translated, and that you can also do update export/import batches as often as you like.

Where to Find, How to Learn
You can find the Mura Translations plugin in the Mura Marketplace, or download it via the Blue River GitHub repository. If you want more detail on how it works, the plugin contains an overview video which you can also view online at YouTube (http://www.youtube.com/user/MuraCMS).