169 Years, 160,000 pages, 6 Months
Migrating America's oldest running magazine to Mura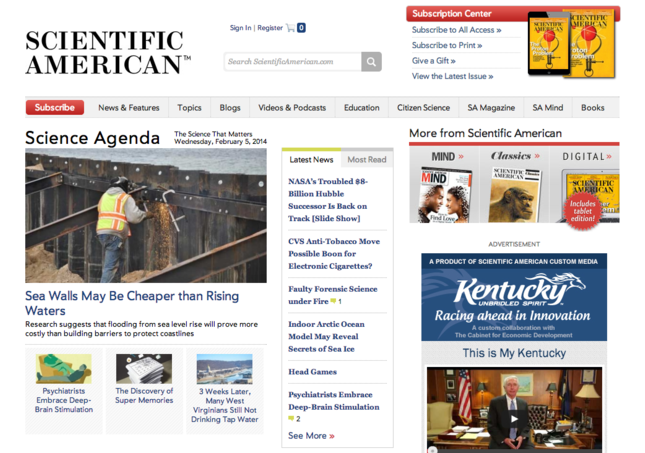 Since the first launch of Scientific American's legacy Content Management System (CMS) in 2001, the ScientificAmerican.com website infrastructure had grown to support over 5,000 print issues' worth of content.
This comprehensive archive spans from current issues all the way back to the inaugural edition in 1845. Patches, add-ins and customized software enabled Scientific American's legacy CMS to produce print and electronic articles, text and HTML newsletters, and even podcasts for distribution on the site and via Apple iTunes. But as business demands became more sophisticated, working with the legacy platform became more burdensome with every new feature addition and related CMS update.
After evaluating several options, Scientific American chose Mura for their new architecture; moving to Mura would supply gains in both performance and productivity, as well as provide easy integration with an e-commerce project designed to generate revenue from their content. The Scientific American team felt that if any solution could meet the ambitious project's deadline of six months, it would be Mura.
From concept to delivery in six months
With past vendors it's always been, "How can we make your business fit into our product?" And with Blue River, it's been, "How can we make Mura CMS work for your business?"

- Angela Cesaro, Senior Digital Product Manager, Scientific American
Where timelines for many large-scale CMS projects are on the order of two years, Scientific American had only six months to get the content into Mura CMS and the site launched. With such a short timeline, one of the biggest hurdles was importing Scientific American's huge content repository into the new system—over 125,000 print magazine articles and 40,000 web-only articles, as well as blogs and podcasts. They had to pull content from multiple sources including various databases, five partner feeds, Scientific American's blog network managed in WordPress, development database for archive content, the existing website, and flat XML content from parent company Nature Publishing Group. By automating the import process, Scientific American transferred all their content into Mura CMS just three months into the project, with only minimal manual clean-up time.
Working with Blue River to architect and customize our new Mura CMS infrastructure has considerably contributed to our project's success and helped keep our CMS migration smooth and delivered on-time.

- Nick Sollecito, Technical Lead, Macmillan
Throughout the process of developing the new site, Blue River's professional services group worked with Scientific American's web development team to meet their aggressive timeline: Blue River helped develop Mura templates, plug-ins and Mura customizations for the new site. These customizations facilitated Scientific American's unique needs for article and issue creation, streamlined the workflows for adding print magazine content into Mura, creating slide shows, and producing HTML content newsletters while providing the consolidated platform and content repository behind Scientific American's newly combined content and e-commerce sites. Both teams focused on not only meeting the immediate goals, but to ensure that the Mura-based architecture could meet long-term goals as well.
2014 is going to be an exciting year for Scientific American; we have a lot of big plans. Getting Mura CMS up and running gives us the infrastructure to do what we want to do. We will be looking to develop web content mobile apps and international sites featuring translated content and products.

- Angela Cesaro, Senior Digital Product Manager, Scientific American
Meeting today's (and tomorrow's) challenges
Using Mura , Scientific American met their ambitious deadline. The new website launched Monday, January 20, 2014 with Mura delivering the magazine articles, web content, text and HTML newsletters, podcasts and blogs its users have come to expect. All of Scientific American's customers are now accessing content stored in one content database instead of the multiple duplicative databases that were in use only six months before.
Mura and Blue River delivered, as promised, a platform that is saving Scientific American's business time and money. It's also helping the development team prepare for continued success tomorrow.